Researcher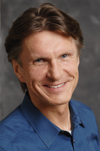 Arnold Michalowski, researcher at the Institute for the History of Medicine of the Robert Bosch Foundation in Stuttgart (since 1989). Studied German Language, German Literature and History in Stuttgart and Heidelberg, degree in education for grammar schools (1989).
Samuel Hahnemanns Krankenjournal DF5. Digitale kritische Edition.
Betreuung und Mitarbeit an der Gesamtedition der Krankenjournale Samuel Hahnemanns.
Aktuelle Bearbeitung: Samuel Hahnemann Krankenjournal DF 12 (1839-1843). Transkription, Übersetzung und Digitalisierung.
Therapiegeschichtliche Materialien zu Samuel Hahnemanns Pariser Praxis. In: Medizin, Gesellschaft und Geschichte, Band 8 (1989). S. 171-196.
Richtlinien zur Edition von Hahnemann-Handschriften. In: Medizin, Gesellschaft und Geschichte, Band 9 (1990). S. 195-203. (Download siehe rechte Spalte)
EDV-unterstützte Edition der Hahnemannschen Krankenjournale. In: Medizin, Gesellschaft und Geschichte, Band 11 (1992). S. 219-227. (Download siehe rechte Spalte)
Samuel Hahnemann Krankenjournal DF 5 (1837-1842). Transkription und Übersetzung. 1992
Paganinis Brief an Hahnemann vom 3. September 1837. Transkription und Übersetzung. 1992 (Download siehe rechte Spalte)
Samuel Hahnemann Krankenjournal D 2 (1801-1802). 1993
Samuel Hahnemann Krankenjournal D 3 (1802). 1996
Samuel Hahnemann Krankenjournal D 4 (1802-1803). 1997
Records on Homeopathic Physicians in American Archives. In: Culture Knowlegde, and Healing. Historical Perspectives of Homeopathic Medicine in Europe and North America. 1998. S. 275-290.
Samuel Hahnemann Krankenjournal DF 2 (1836-1842). Transkription und Übersetzung. 2003